Children Learn Through Play
BLOCKS
Blocks teach our children spatial, color, shape and size discrimination and the ability to create through their outlook of the world around them.
ART
Art is a form of release for young children and a definite way to boost their self image. Allowing children free access to crayons, glue, paper, fabric and scissors allows the child to create a product in which the process was all of their own creativity.
DRAMATIC PLAY AREAS
This area of play puts a definite impression on our children's view of the world around them. They are allowed to dress up and make decisions based on truly what we as parents and teachers have instilled in them to know about the values of life, family, and the importance of respecting others. They are encouraged to show compassion and gain compassion.
MISSION & CORE VALUES
Mission Statement
~ Our mission is to provide high quality child care and a safe learning environment for children and their families.
Core Values
~ We value parent's trust.~ We value team work and cooperation with parents and staff. ~ We value a clean and safe learning environment.
Welcome to P & J Tender Care
Welcome to the home of P & J Tender Care Preschool and Child Care Center where tender care and learning go hand in hand.
At
P & J Tender Care we provide preschool and child care programs
from 6 weeks to 6 years of age in
Rock Island, IL and Moline, IL
. We are a
Fully Licensed and State Certified Center
with a
Silver Circle of Quality/Star Level 2 Rating
from the Illinois Department of Human Services.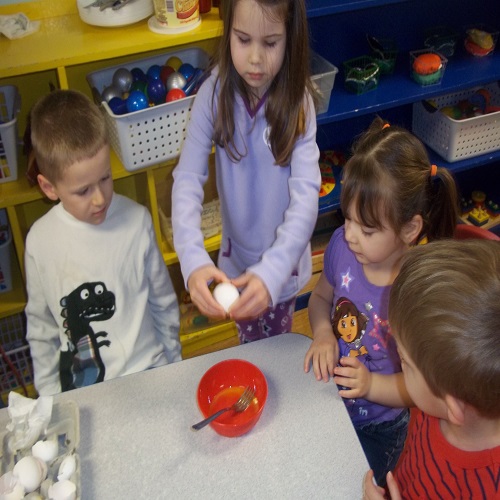 Our
preschool and child care programs
promote the cognitive, physical, social/emotional and language development of children of all ages and cultivate responsibility in your child. In addition to educational learning experiences, we provide healthy meals and a fenced in playground for the safety of your children.
We at
P & J Tender Care
find personal commitment to be a must in the field of
Early Childhood Development.
We as childcare providers and teachers have a dedication to ensure quality of growth and development of each individual child. In having such a commitment, we can assure that each child's needs will be met according to their personal needs. We assess our children and build our teaching techniques, lessons, and goals around the children we care for. Yes, we have found learning experiences to be more attractive and productive if it's centered around the child's interest and ideas.
We are here to help serve the community with our
preschool and child care programs
in partnership with
Early Learning Quad Cities.
Please take a look around to see what
P & J Tender Care
has to offer. For more information or for a tour of our facilities, please feel free to contact us.
Meet Our Administrative Staff
contact us
P & J Tender Care Commitment
P & J Tender Care is committed to providing an environment that is free from discrimination in employment and opportunity because of race, color, religion, creed, national origin, gender, sexual orientation, age, ancestry, marital status, disability, and veteran or military status.